Dear gamers,
It is important day in Bulbware's history as we're launching our new game with Pewds. Poopdie is officially out today (12-12-19)!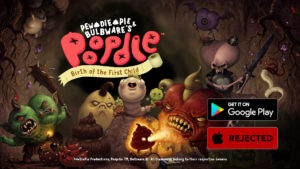 It is available for free download here:
Google bit.ly/2ro2K1Y
Apple …
Unfortunately  Apple seems to be disgusted by Poopdie and his army of little Troops. Small wormy got rejected and here is answer that we received:
'[Poopdie has] crude imagery and sound effect which may disgust users.' so it not complies with Apple guidelines.
We are currently during the appeal to the Apple Review Board and plan to reach a settlement. C'mon Apple! We have received hundreds of iOS users' requests who are eager to start pooping!
Have a happy Poop Day!