Hi there,
This is Szymon and I'm Art Guy at Bulbware. I am a person responsible for all the art and animations (except for the main promo art – credit goes to SpineBender). I decided on writing this post because <surprisingly> some people consider my gross disturbing art as interesting. Sooo here you go. Now I'm gonna spill my guts out!
Know how bad you really are
Let's time travel a bit. During my time at university my idea was to make only 3D animation. I was overwhelmed by it and I thought it was the only way for my career.  Here you can see on of my short movies 'Daddy' made during that time (over 10 years ago).
This kind of production involves creating detailed models, various textures and shaders in software like 3DStudio Max, Zbrush, Body Paint 3d which is a very cumbersome process for me.
After graduation I started my own studio and decided to work on my animation debut as well – 'Bluebeard'. What seemed to me as manageable 5-minute animation production turned to be very fatiguing process where me, my friend and co-workers stared to look to work as little as possible on this never-ending stream of re-renderings. It eventually lead me to abandoning it a few years ago.
At that point I understood that I was really bad at:
– creating realistic 3d art
– making  projects that need huge workload to see the final result
– creating 3d character rigs
So as a matter of fact a good thing. Knowledge is power.
Embracing minimalism
When Artur reached out to me with the idea to create a game (back in 2013) I knew it would be stupid to repeat Bluebeard's fate so I decided to set up a bunch of restrictive rules for myself:
– only 2d art
– only simple shapes in photoshop
– NO COLOR (grayscale)
– no gradients or effects (except where they are absolutely needed)
Production pipeline
So taking off from that plan here are steps taken to bring it to reality:
1. Doodling in sketchbook
My aim was at creating really quick sketches usually with pencil to grasp the basic silhouette and shapes. That's the fastest way I know that allows you to really see if the idea is worth the hassle.
Below you can see very first sketch (it dates back to 2013) of the Bulb Boy room that you can see in the game: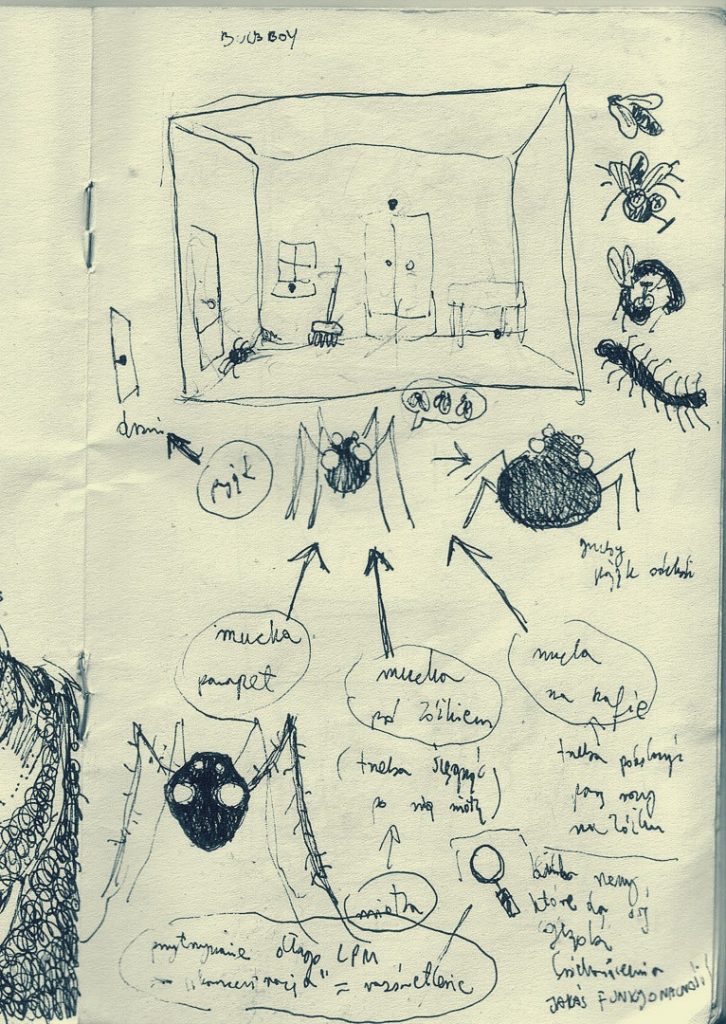 Here I do research considering facial expressions of the little fella :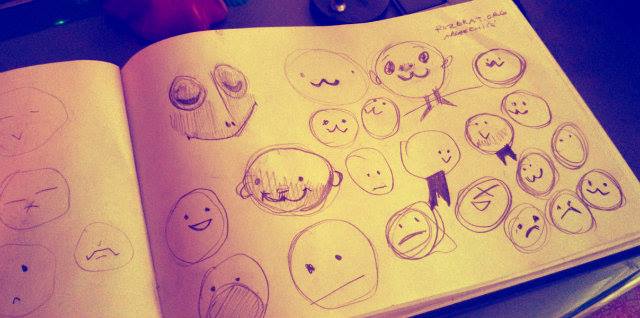 2. Creating shapes in Photoshop
You may be surprised why I don't use Illustrator for that. Thing is I prefer to do it this way because it's faster and I don't need any fancy features for such simple art. I only prefer Illustrator when I'm supposed to create printable art or clean scalable logo.
Here you can see that I prepared bunch of poses for our little hero. Please note that most of the expressions have completely different face & body shapes. (there is color added just for testing, original art is grayscale)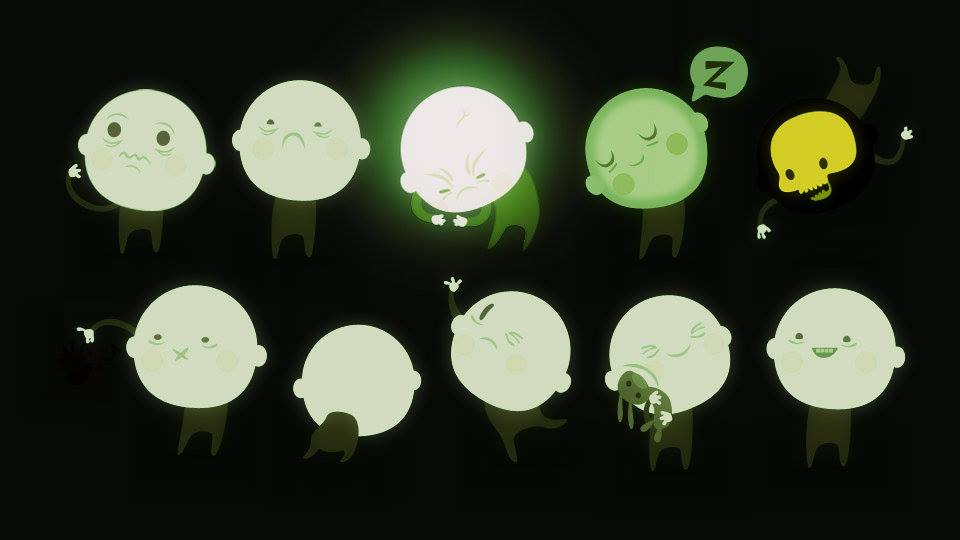 3. Animating in Spine
Spine is a very easy to learn tool. You might say that in comparison to 3dStudio max it is simplistic (no reactor, hair & cloth dynamics etc.), but for my minimalistic pipeline idea it proved to be perfect.
What a surprise – a farting frog:
Let's look how Bulby conveys various emotions. They are (left to right) sleepy, scared, cuddly, concentrated. As I noted before – being able to create completely different poses is a thing I love about animation. It's definitely not kind of re-posing that you get using a standard rig.

You can see more of stuff behind the scenes on Spine showcase site. BTW thanks Esoteric Software for crating showcase video!
4. Putting everything together in Unity
Artur was main responsible person here. Poor guy – I was hovering over him with discontentment on my face and asking him to fix some of the looks. So basically we just sat together and spent some time tweaking various effects.
Most important stuff here is:
– 2d volumetric shadows
– color tint
– glow effect
– noise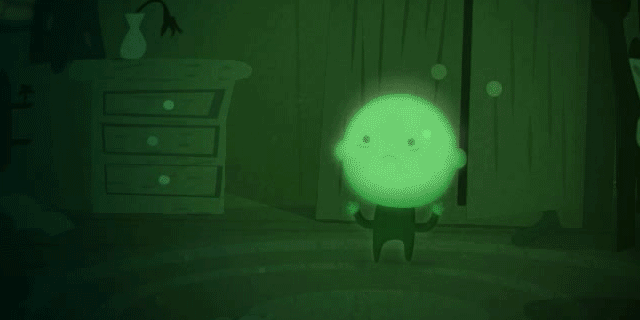 Numbers?!
So putting everything together it was a 13 months of work which involved creating:
– 3 positive characters (in different age variations)
– 16 monsters
– unidentified number of animated props
– 24 backgrounds
– ~1000 animations
– 10 simple ingame cutscenes
– drawings in speech bubbles (there is no dialogue in game)
– menus
– marketing materials (banners, flyers, stands etc.)
This post is dimming out
So I hope you liked this trepanation of artist skull. If you think I should add something here or you have some questions feel free to reach us out at contact@bulbware.com.
May light shine upon you!
S.